The number of current COVID-19 hospitalizations in the U.S. has soared past 60,000, surpassing the previous record high of 59,940 set on April 15, according to data compiled by The COVID Tracking Project.
The figure has been climbing from late September according to the project, which compiles the latest available data from the websites of local and state/territory public health authorities.
"Where data is missing from these websites, we supplement available numbers with information from official press conferences with governors or public health authorities," the project notes.
Earlier this month, the Centers for Disease Control and Prevention (CDC) received forecasts of daily new reported COVID-19 hospitalizations from 10 modeling groups.
"For November 30, the forecasts estimate 2,600 to 13,000 new COVID-19 hospitalizations per day.
"Four national forecasts predict a likely increase in the number of new hospitalizations per day over the next four weeks, two forecasts predict a likely decrease, and two forecasts are uncertain about the trend or predict stable numbers," the CDC noted.
According to the Institute for Health Metrics and Evaluation (IHME), the number of beds needed across the country is forecast to nearly double by late December, with around 120,423 beds projected to be needed on December 27.
According to the latest data reported to the COVID-19-Associated Hospitalization Surveillance Network (COVID-NET), published on the CDC website on November 6, the country's overall cumulative hospitalization rate was 207.1 per 100,000 people.
The rate was based on a total of 67,508 laboratory-confirmed COVID-19-associated hospitalizations reported to COVID-NET between March 1 and October 31.
Overall weekly hospitalization rates among all age groups combined peaked during the week ending April 18 followed by another peak during the week ending July 18.
"Non-Hispanic white persons and non-Hispanic Black persons represented the highest proportions of hospitalizations reported to COVID-NET, followed by Hispanic or Latino, non-Hispanic Asian or Pacific Islander, and non-Hispanic American Indian or Alaska Native persons.
"However, some racial and ethnic groups are disproportionately represented among hospitalizations as compared with the overall population of the catchment area. Prevalence ratios were highest among non-Hispanic American Indian or Alaska Native persons, followed by non-Hispanic Black persons and Hispanic or Latino persons," the CDC said.
Since the week ending September 26, overall weekly hospitalization rates have risen, mostly due to an increase in the rates of hospitalization among those aged 18 and older.
"Data for the most recent weeks may change as additional admissions occurring during those weeks are reported," the CDC noted.
There were reported to be at least 3,624,813 active cases (those currently infected who are being treated in hospital or recovering at home) on November 9, according to data compiled by Worldometer.
Newsweek has contacted the CDC and the U.S. Department of Health and Human Services for comment.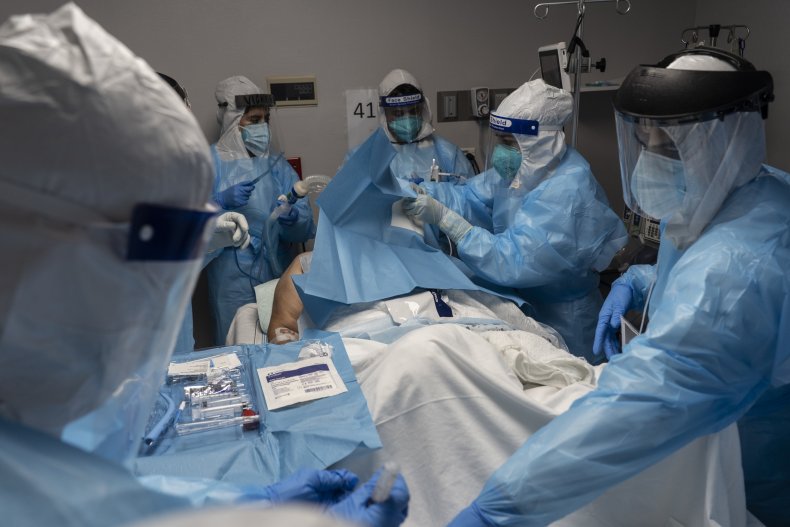 The wider picture
The novel coronavirus has infected more than 50.9 million people across the globe since it was first reported in Wuhan, China, including over 10.1 million in the U.S.
Globally, more than 1.2 million have died while more than 33.2 million have reportedly recovered as of Tuesday, according to John Hopkins University.
The graphic below, produced by Statista, shows the spread of COVID-19 across the U.S.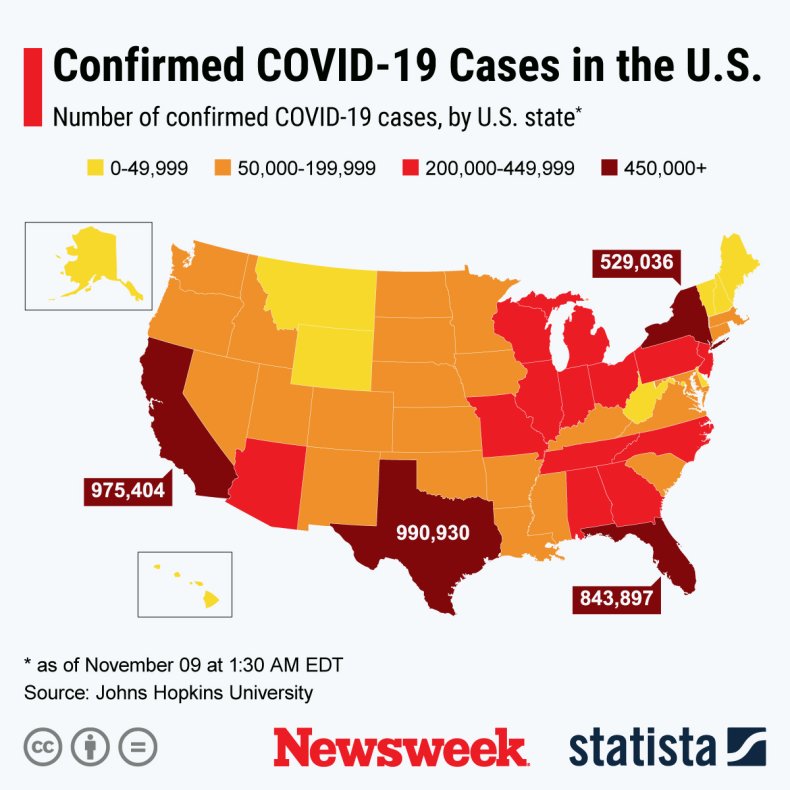 Source link