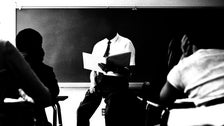 At the end of last school year, Freeman School District Superintendent Randy Russell of eastern Washington state drew up three potential budgets for September: a best-case scenario, a doomsday scenario and one in between.
The district cut back on staff training, stopped buying new materials and school supplies, and declined to hire the additional support staff they normally hire. This fall, with a nearly 10% drop in student enrollment, the district almost had to deploy its doomsday budget ― which would have required staff layoffs.
"Thank goodness we budgeted so conservatively, because what we thought might happen actually did happen," said Russell, whose district is using a hybrid learning model. As the months continue, though, he is pessimistic that they will continue to be so lucky. "If we got through the whole year and we didn't have to lay anyone off, I would consider that a huge win."
As the third wave of COVID-19 ravages the country and Congress continues to spar over its next stimulus package, school districts like Russell's have been left in the lurch, resulting in cuts, budgetary uncertainty and, in some cases, job losses. Last spring, dozens of urban district superintendents with the Council of Great City Schools wrote to congressional leaders warning that without hundreds of billions more dollars in funding, they would be forced to lay off hundreds of thousands of teachers. Months later, it's still too early to tell how many teacher jobs have and could be lost, in part "because districts are waiting to see if relief was coming from the federal government," Tonya Harris, a spokesperson for the Council of Great City Schools, wrote in an email to HuffPost.
Indeed, the September jobs report showed that about 570,000 elementary and secondary school education jobs, primarily support staff, had been lost since the same time in 2019. Without aid in sight, school districts are looking into the financial abyss.
"I'm so disappointed. To have adults not make the best decisions for kids — that's all kids want. They don't care if you're Democrat or Republican," Deborah Delisle, CEO and president of the Alliance for Excellent Education, a national policy and advocacy group, said about the lack of a stimulus package.
About half of districts started the school year fully remote, although that number has likely decreased since then as large districts have moved to reopen in person. Research on the safety of these reopenings remains limited and inconclusive, though the preliminary data looks hopeful. But districts have been forced to prepare for all options, often serving students both remotely and in person while gearing up for potential COVID-19 outbreaks and various shutdown scenarios. Boston Public Schools, for example, delayed reopening plans last week as cases in the city climbed. And on Wednesday, a school district in Georgia sent all students home to learn remotely for 10 days amid an outbreak.
This year, Russell spent heavily on technology expenses and personal protective equipment. Many families have chosen to homeschool or enroll their children in a virtual school, and the loss in enrollment means the district is making less money from providing school meals than usual. It's also likely to receive less state funding for transportation services ― funding reimbursement is provided per number of riders ― though the district's overhead costs remain the same. In Washington state, districts receive about $10,000 per student, Russell said. In total, his district stands to lose about $300,000 in funding this year.
Budgetary constraints won't prevent Russell's district from going back to in-person classes full time, if safety allows. But it will affect the quality of services provided and the curriculum, including a new K-8 reading program that the district was considering adopting but has since been put on the back burner. No extracurricular activities are being offered — no band, no sports.
To save money, the district has cut back on custodial services and left vacant teaching positions open. Russell said the past few months have been the second most difficult time he's had during his 33-year career working in education, only topped by a school shooting in the district in 2017, when four students were shot and one died.
"We weren't counting on federal help because you just don't know," said Russell, who has served as superintendent since 2011. "We're sure trying not to lay people off … but if there's not some changes to some of the funding systems in Washington, then I believe that's going to be a reality midyear."
In lieu of help from the federal government, some superintendents have relied on assistance from elsewhere, such as grant money. They can't wait for help when the need is immediate.
In rural Umatilla, Oregon, all students in the school district qualify for free or reduced price lunch, while many of them are learning English and don't have adequate internet access. During the pandemic, the district has purchased 500 hot spots for $100 each, $10 a month ― a new expense it had never anticipated. In the first week of school, only four out of the district's 1,044 children failed to log on. The district's superintendent, Heidi Sipe, is relying on community grants to help pay for internet hot spots for families through December. When those grants run out, though, the district is on its own. It began a voluntary layoff process for educators last spring in anticipation of new costs, with 14 teachers ultimately deciding to leave.
Over the summer, the district had planned on starting the year with a hybrid learning model. By the end of July, however, with COVID-19 cases on the rise, educators had to do an about-face. The whiplash was both draining and expensive, forcing more planning in figuring out every student's home device and internet situation, making sure teachers had the necessary equipment and setting up buses to deliver meals and school supplies, such as pencils and glue sticks, every day.
"I cannot wait for federal funding to serve kids. The needs are immediate right now," Sipe said. "I have to adjust and make it work at this time."
It's not that districts aren't used to the ebbs and flows of school budgets and community needs. It's that they usually have months to put a plan in place to patch up these holes and figure out the most logical places to make cuts. But time isn't a luxury that districts have anymore. Without financial support, Sipe anticipates that the district will have to dip into its reserve funds and make "drastic" changes in the future.
These financial challenges exacerbate an already difficult year. Over the course of the pandemic, the rural Oregon district has already faced two floods, a wildfire and a drive-thru graduation that was taken out by a windstorm.
"We cannot catch a break," Sipe said.
So far, the state's budget has not been as negatively affected as anticipated. Sipe said she hopes that will leave room to potentially hire back some teaching positions.
In Washington state, Highline Public Schools Superintendent Susan Enfield can list a ticker tape of items the district has had to shell out cash for: more expensive lunches as schools have been serving shelf-stable food, which is higher-priced; hot spots and learning devices for students; and hundreds of thousands of dollars' worth of PPE, since students require more custodial service once they return to school. Like Russell, Enfield is predicting drastic cuts in her transportation budget based on decreased ridership. The district has started looking for areas where it can make deep cuts in anticipation.
Enfield said she is struggling to predict what budget cuts will look like at the state level, without any idea of whether federal relief will come.
"It's hard to tell what decisions they're going to make," she said. "We are bracing for some significant budget reductions in the coming months and going into the next school year."
Delisle, president of the Alliance for Excellent Education, worries that these cuts could come at the expense of students' mental health.
"[Schools are] really struggling in terms of how do they maintain a sense of optimism in making those decisions right for kids, when they don't know if they'll have the money to support additional social workers," Delisle said. "How do you balance your budget, make the right reductions, but still provide the service kids need, especially kids who have been impacted by the trauma in the pandemic?"
A HuffPost Guide To Coronavirus
Everyone deserves accurate information about COVID-19. Support journalism without a paywall — and keep it free for everyone — by becoming a HuffPost member today.
Calling all HuffPost superfans!
Sign up for membership to become a founding member and help shape HuffPost's next chapter