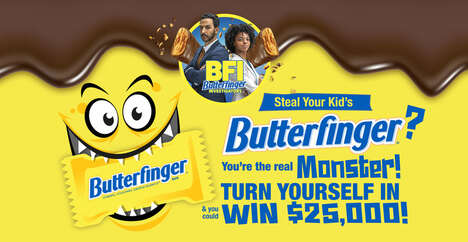 With Halloween swiftly approaching, iconic confectionary brand, Butterfingers, is launching a fun social media challenging with the possibility of winning a $25,000 "treat." The campaign is accompanied by a hilarious television ad, which discusses the "criminal activity" that usually takes place around this spooky time of year—having your Butterfinger bars "go missing" in the weeks leading up to Halloween.
In an effort to halt this criminal behavior, Butterfingers launched the new Butterfinger Investigators (BFI) to help bring "sticky-fingered chocolate lovers to justice once and for all." From now until November 6th, guilty parties can now rectify their actions and turn themselves in for the chance to win $25,000.
To confess (and enter the contest), simply sign a digital "confession" for agents Hugh Dunnit and Ali Byes and share the confession on Facebook and Twitter for more chances to win.
Image Credit: Butterfinger
Source link