Fox News hosts and editorial boards at two of Rupert Murdoch's largest newspapers are demanding President Donald Trump either present evidence or immediately cease allegations of "voter fraud," urging him to "leave office with dignity" should he be unable to disprove his defeat.
Fox News host Laura Ingraham on Friday night prepared Trump supporter viewers to "accept an unfavorable outcome" of the president losing, hours before her network called the presidential election in favor of Democratic candidate Joe Biden. On Saturday, The Wall Street Journal and New York Post editorial boards, both owned by Murdoch's News Corp., published op-eds calling on Trump to immediately drop the baseless "stolen election" narrative he continues to tweet four days after Election Day. Just one month after the Post labeled Trump "an invincible hero," the paper's editors are now urging him to "wish Biden well" and concede instead of promoting "baseless conspiracies."
The WSJ board said Trump and his personal attorney Rudy Giuliani's generic "Philadelphia is historically corrupt" claims won't stand up in court and the president should "concede gracefully" after all votes are counted. Only a handful of sitting Republicans have referred to Biden as "President-Elect," something Fox News hosts were reportedly instructed to avoid even as their own network called the election for Biden Saturday.
"Get Rudy Giuliani off TV. Ask for the recounts you are entitled to, wish Biden well, and look to the future," the NYPost editorial board wrote.
In response, Media Matters for America President Angelo Carusone issued a statement condemning the alleged move: "Rupert and Lachlan Murdoch are actively undermining faith in our election, and this decision will further agitate some of Trump's most conspiracy-driven supporters, who are already prone to violence."
Zero sitting Republicans have publicly called on Trump to concede as of Saturday evening.
"The math is looking near-impossible for President Trump to win re-election," the New York Post editorial board wrote Saturday. "To lock in his legacy, though, Trump must rally Republicans to move forward — by behaving with dignity in the face of likely defeat."
Ingraham on Friday evening echoed a similar sentiment to both Trump and his supporters, preparing them to accept the overwhelming possibility of defeat.
"If and when it's time to accept an unfavorable outcome in this election, and we hope it never comes, but if and when it does happen President Trump needs to do it with the same grace and composure that he has demonstrated," Ingraham said.
So far, only a handful of sitting Republicans have referred to Biden as president-elect in the past 24 hours: Utah Senator Mitt Romney, Maryland Governor Larry Hogan, Vermont Governor Phil Scott, Massachusetts Governor Charlie Baker and Michigan Congressman Paul Mitchell. Baker issued a statement Friday saying "the president's comments that there's some national conspiracy aren't supported by any of the facts, and they're damaging to democracy."
Governor Baker added Trump's comments "cheapen" both American voters and every candidate who ran for office in 2020.
The Wall Street Journal editorial board challenged Trump to "bring on" evidence immediately or stop claiming election fraud, which damages his potential 2024 chances, should he decide to run again.
"But Mr. Trump's legacy will be diminished greatly if his final act is a bitter refusal to accept a legitimate defeat…Mr. Trump hates to lose, and no doubt he will fight to the end. But if defeat comes, he will serve himself and his country best by honoring America's democratic traditions and leaving office with dignity."
"We hope in that event [at end of vote counting and litigation] he would concede gracefully," the WSJ editorial board continued. "We'd hate to see that legacy ruined by a refusal to accept the normal transfer of power."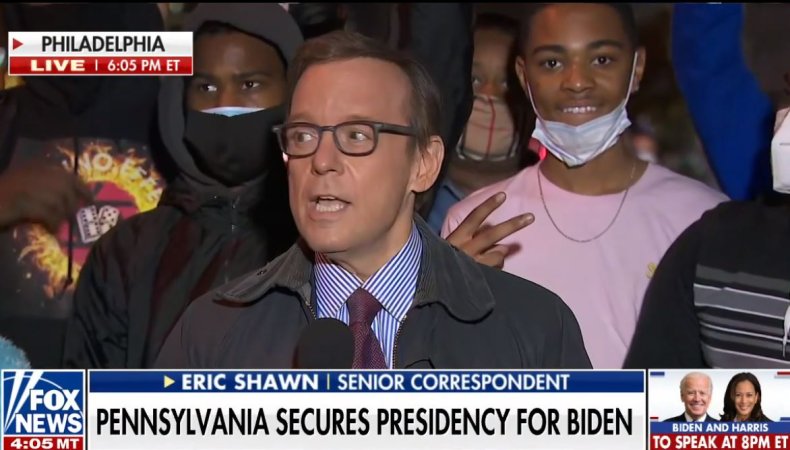 The country's largest news media outlets including Fox News, CNN, the Associated Press and MSNBC all called the presidential election definitively for Biden by Saturday afternoon. Trump, in turn, has lashed out at the news outlets and issued a scathing statement Saturday morning as he golfed in Sterling, Virginia.
"We all know why Joe Biden is rushing to falsely pose as the winner, and why his media allies are trying so hard to help him: they don't want the truth to be exposed," the president said. "The simple fact is this election is far from over. Joe Biden has not been certified as the winner of any states, let alone any of the highly contested states headed for mandatory recounts, or states where our campaign has valid and legitimate legal challenges that could determine the ultimate victor."
Some of Trump's most staunch defenders on Fox News have agreed Trump must "put up or shut up" in terms of voter fraud evidence.
"It appears that former Vice President Joe Biden will become the 46th president of the United States on Jan. 20 … For millions of Christians across our nation, this is a bitter pill to swallow," Fox News contributor and staunch White House ally Pastor Robert Jeffress wrote in a Saturday opinion column.
Newsweek reached out to News Corp and the Trump campaign for additional remarks Saturday evening about potential concession discussions but did not receive replies before publication.