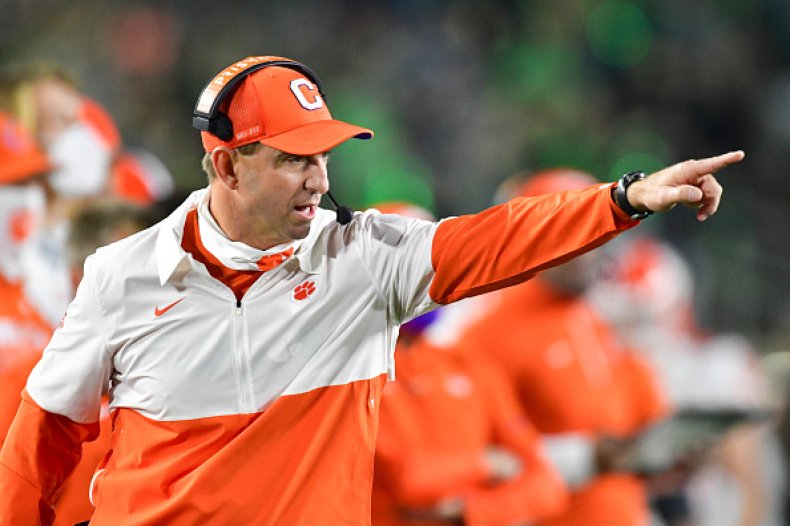 The Clemson football team traveled to play Florida State last weekend, only to hear that their game would be canceled because of COVID-19 issues with the Seminoles. Clemson learned of this only three hours before a noon kickoff in Tallahassee. Florida State forfeited the game.
One day later, Clemson football coach Dabo Swinney said there were no COVID issues, and that Florida State was just ducking out of Saturday's game.
"This game was not canceled because of COVID. COVID was just an excuse to cancel the game," Swinney said Sunday evening.
Swinney, who has won two national championships in the last four years—and runner-up twice more since 2015—said Florida State should pay for Clemson's travel, which is about $300,000. He also said protocol didn't lead to the cancellation.
"It's an awful lot of money. We were there and we met the standard to play. That's $300,000 just gone out the window. That's a question for Dan (Radakovich)," Swinney said. "The standard to cancel a game was not met. I was on every committee call for months since March. The only thing we talked about in canceling games was not having enough guys or seven offensive lineman."
Swinney went on to say that he not only felt bad for his players, but "I feel bad for their players, too."
"That's why we expanded the rosters from 72 to 80. That's why we wear masks and shields. That's why we have a tent put up in the parking lot of an entire hotel," Swinney said.
Clemson, which is ranked No. 4 or better in most national polls (including the Newsweek top 20 at No. 4), has already been affected by COVID-19 this season. Starting quarterback Trevor Lawrence got diagnosed with the coronavirus the week of their Boston College game. The Tigers were ranked No. 1 in the country at the time. Lawrence also had to sit out the following week when Clemson traveled to then-No. 4 Notre Dame, who upset Clemson, 47-40, in double overtime.
Clemson had a week off on Nov. 14, and the Florida State game would have been the first for Lawrence since Oct. 24.
Next up for Clemson is Pittsburgh at home this Saturday. Clemson (7-1) has a game scheduled for Dec. 5 at Virginia Tech. The top two teams from the Atlantic Coast Conference (ACC) will meet in the league's title game on Dec. 19. Clemson would likely face Notre Dame in a rematch, should the two teams win out. At stake would not only be a conference championship, but also a berth in the College Football Playoff.