Democratic U.S. Senate Minority Leader Chuck Schumer of New York called President Donald Trump a "moron" on Thursday for his response to the third resurgence of coronavirus cases in the U.S.
"More people are in hospitals, more people are dying. This third wave in the cold weather with the combination of the flu, and we're sitting on our hands and that's because Donald Trump is such a—pardon my saying, I know you have a very nice show—such a moron," Schumer said during an interview on The Joe Madison Show, a talk show on the SiriusXM satellite radio network.
Schumer went on to say that he believes the Trump Administration should focus on equipping frontline medical workers with personal protective equipment as COVID-19-related hospitalizations increase nationwide, according to The Hill.
Schumer has criticized Trump's COVID-19 at various points throughout the year. He called Trump an "idiot" after Trump's first debate with Democratic presidential nominee Joe Biden, "a quack medical salesman" after Trump publicly wondered whether chemicals in household disinfectants could help eliminate coronavirus in the human body and accused Trump of "towering and dangerous incompetence" as the pandemic began emerging in February.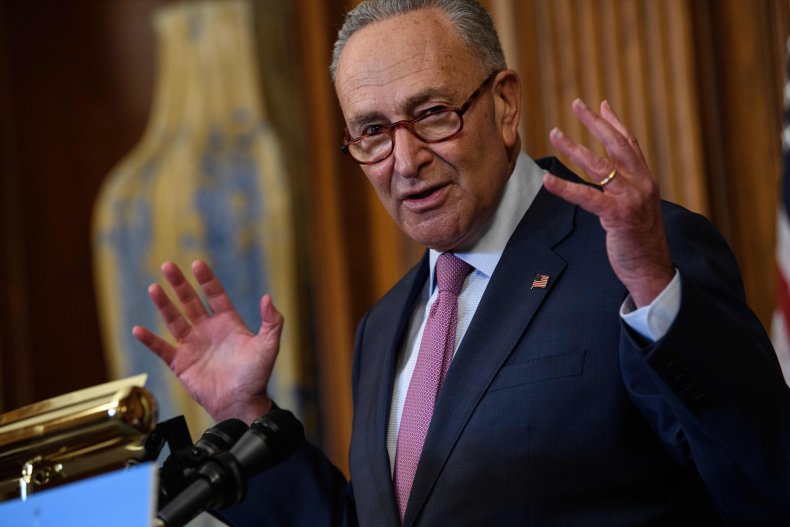 Trump downplayed the pandemic's lethality in its early stages and has recently repeated that the U.S. is "rounding the corner" in the pandemic. A Tuesday White House press release listed "ending the COVID-19 pandemic" as one of the Trump administration's accomplishments.
However, last Friday, the U.S. reported 83,948 new cases of COVID-19, its highest ever daily toll of new coronavirus cases. As of October 23, hospitalizations nationwide were over 41,000 total, and nearly 800 people have died from coronavirus each day on average, according to The Guardian.
Trump has claimed that COVID-19 is less deadly than the flu, something which the statistics from the U.S. Centers for Disease Control and Prevention (CDC) demonstrate as untrue. In fact, in less than a year, the coronavirus has killed more people in America than the military conflicts in Vietnam, Korea, Iraq, Afghanistan and World War I combined.
Trump has also publicly advocated for herd immunity, an approach the World Health Organization has called "very dangerous."
On October 7, The New England Journal of Medicine issued an editorial, the first in its 208-year history, calling the Trump Administration "dangerously incompetent", accusing it of undermining governors, politicizing both face masks and the vaccine and urging readers to vote the administration's leaders out of office.
Newsweek contacted the White House for comment.
Source link