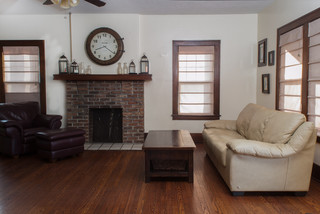 After:
Thelen used a palette of warm, earthy colors and natural textures throughout the home. He covered the existing stone in a cultured cut stone that resembles sandstone. The surround's cream and tan hues subtly contrast with the white walls and play off the tones in the
distressed white oak flooring.
Thelen removed the original chunky hearth ledge and replaced it with one that matches the firebox surround. He also added a dramatic niche for firewood. This adds the texture of wood to the wall. He lined the niche with the fireplace's original dark stone as a nod to the home's history. Although the niche is filled high with wood for this photo, the homeowners maintain a lower stack of wood for ease of use and to reveal the stone.
Your turn: Are you considering a fireplace renovation? If so, please post photos, as well as what you'd like to change about it, in the Comments.
More on Houzz
Browse thousands of photos of fireplaces
Hire a local architect
Shop for a fireplace