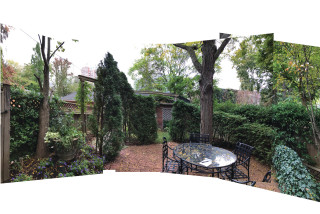 After:
New Lannon stone, a locally quarried stone that the designer says is "basically a limestone," leads from the house down to the new patio.
The patio is paved with full-range bluestone, which features a mix of colors, and true red clay bricks. "Bluestone and brick is a classic combination that goes with my clients' traditional farmhouse style. And the blue color of the bluestone worked well with the yellow siding on the house — blue and yellow are almost opposite on the color wheel," Drzewiecki says.
A circle of chairs surrounding a low table sits straight out from the door, with a brick circle marking the spot. (The homeowners plan to replace the table with a fire pit.) A pergola frames the dining area to the left, with a secondary seating area and fountain to the right.