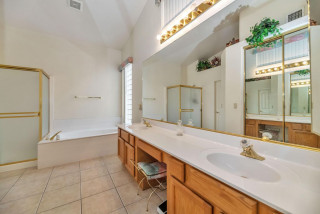 After:
Koltun removed the soffit above the vanity to make the space feel larger and painted the walls in Pure White by Sherwin-Williams to keep the room bright. She chose a dark color for the vanity to anchor the piece in the space.
"The cabinet color is called charcoal, but it has blue undertones, so it can go more gray or more blue depending on the light," she says.
The Shaker-style cabinetry and curved faucets also lend classic touches. Koltun chose polished chrome for the faucets, for a shiny look while staying on budget. "I love to mix metals, and chrome is an inexpensive option for faucets," she says.